Add the Ultimate Safety Net to your Cloud Transformation
No matter what your cloud architecture is, it's important to have a system dedicated to keeping your digital services up and running. As the leading incident management platform, xMatters is the safety net for cloud businesses that can't afford even the slightest service degradation during (or after) their move to the cloud.
Try xMatters Free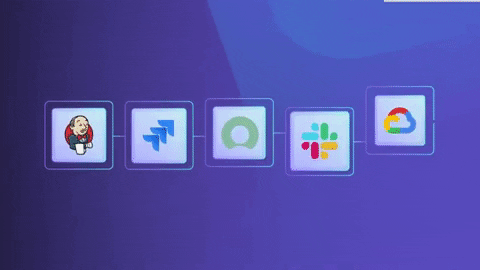 Migrate your Monolith (or Microservices!) with Ease
Migrating your monolith or microservice is a daunting task. While there are many benefits (velocity, flexibility, agility) in moving to the cloud, the journey is potentially fraught with customer-impacting disruptions.

xMatters safeguards your digital services with a flexible infrastructure and an extensive integration library that makes it easy to customize for any teams' processes or tech stack. Use Key Integrations to Deploy without Disaster
Boxes are a part of every move, and your migration to the cloud is no different. Containers are a useful tool for moving your applications from one environment to another, but it's critical to have a system to catch any complications that may arise. After all, it's terrible to open
a box and find your best stuff broken.

xMatters works with container orchestration tools such as Kubernetes to proactively fix issues that might occur during deployment by: xMatters integrates with hundreds of cloud-native tools to drive automated issue resolution
Btn text
When you're Ready to Scale - The Sky's the Limit!
Depending on your cloud architecture, there are many things to consider as you scale. From innovative DevOps teams to large global enterprises, xMatters scales to support your growth.

Flexible Architecture
Supports cloud, multi-cloud, or hybrid architectures

Enterprise Grade SLA
Guaranteed 99.95% service uptime ensures our platform will flag any bumps you run into while scaling.
Strict Security
Compliance with globally recognized privacy, risk, and security standards keeps your organization safe.

Future Proof
Scalable architecture supports thousands of cross-functional teams (and microservices!) so that no matter how much you grow we've got you covered
We've got a plan to keep you covered every step of the way
Your cloud transformation deserves the ultimate safety net to protect your digital services from disruption.
Try xMatters Free